Special in getting things done!
Reymerink are known as manufacturer and supplier of a wide range of cosmetic fluids, fluids for cleaning & disinfection and fluids for industrial purposes. Our products are used by pedicures, podiatrists, GPs, dentists, nail studios, tattoo shops, beauticians, (chemical) laundries, drugstores and industrial companies. We also supply products for swimming pool maintenance.
Our products are "composed" and delivered in quantities ranging from 5 ml up to 1000 liters. Via our own distribution network we make sure that your order is delivered fast within the Benelux and UK. You can find our product range via selecting product range in the menu. Is the product you are looking for not listed? Please contact us, probably we are able to help you.
Reliability and service are obvious at Reymerink. The company has short communication lines and therefore can respond quickly to changes and/or to customers inquiries. This enables us to deliver what we promise.
Reymerink: special in getting things done!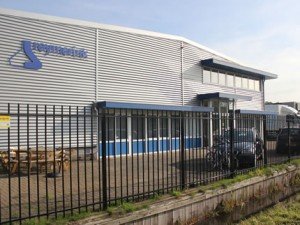 In 1884 the Reymerink company was started in 's-Graveland with trading foods to grocers. The many country homes of the merchants in this region caused a lot of work for the laundries. This created a demand for chemicals. Reymerink responded to this demand by supplying these products.
In the beginning of the seventies of the last century, Reymerink started with the production of its own chemical formulations. At first with personal care products, later other product ranges have been added. Nowadays we are working as a supplier and manufacturer of professional personal care products and chemicals for industrial purposes, swimming pools and chemical laundries.
The company has been growing in the period from 1884 up to now. The current organization is compact and flexible. All staff is involved. That is why/how we can make the difference, give personal attention and do what we promise.